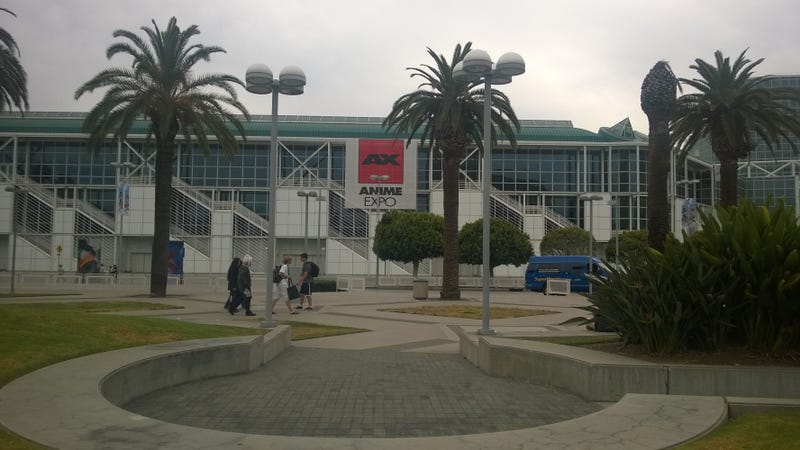 Hey AniTay, your man devinreal13 here. As some of you might know, due to the awesome location of my home I will be attending Anime Expo this year. Since some of you are a far ways from California (or if you do live here, far from Los Angeles) have no fear, the Real Devin has your back. I'll be posting a summary of my 4 day (though possibly 3) experiences of AX every day. I will thoroughly describe things I see, provide you with pictures, tell the highlights and low points of my day. Even describe thing you possibly don't want to know or even need to. I will be giving you the full Real experience.
Anyway, let's start before the convention even begins, with Day 0. Day 0 is the time before the actual convention opens where you can pick up your badge early. It starts at 12 pm and goes on four 36 hours straight. Here's a tip for those who want to attend or will attend eventually, buy your tickets early since prices only go up. I highly recommend buying it during Black Friday, since it's really cheap for a four day pass. Last year the price was $35 for a day, while during Black Friday its $49 for four. If you can go multiple days, which I highly recommend, definitely consider it even if you go just two, still a better deal.

Anyway, my cousins and I went on day 0 to pick up our badges, to avoid waiting in long lines tomorrow. After paying $15 for parking, we walked out the parking structure expecting to wait a while in a long line to pick up our badges. This is the line we immediately saw leaving the parking structure.

Apparently they reworked their whole ticket system this year into something that is actually more efficient. All in all it took us longer to find parking and walk to the pickup than the time the actual pick up took. Well crap, now I paid $15 for 10 minutes of parking. What now?After grabbing our badges and "swag bags"
I said might as well see what's in front of the convention center. Besides I'm going to try to get the most out of my parking, I paid $15 freaking dollars. Along the way we took picture of 2 of the greatest Lakers, Oscar De La Hoya, and the man on the NBA logo.
When we made it the convention center we were immediately given this, by the obligatory religious person who stands in front of conventions giving you pamphlets and other reading material on their religion.Last year I got one for what I think was some Zen Hindu religion.
Anyway here's some nice advertising outside the convention center.
Here's some other stuff outside.
This is right across the convention center. Totally missed opportunity. Should have renamed it Boobies just for the convention. Even if it's probably illegal, would have totally been worth it.
I did see some cosplay but was kind of afraid to ask people for a pic, and I did not want to be a creeper and take it without people knowing. Don't worry, by tomorrow I should gain enough bravery to actually take some pictures. Not much to talk about since it is day 0. Don't worry tomorrow is when the real stuff begins. Anyway, let's wrap by showing you some events listed in the guidebook, which I thought were interesting.

Got to love the honesty here.
Anyway that's it for today.